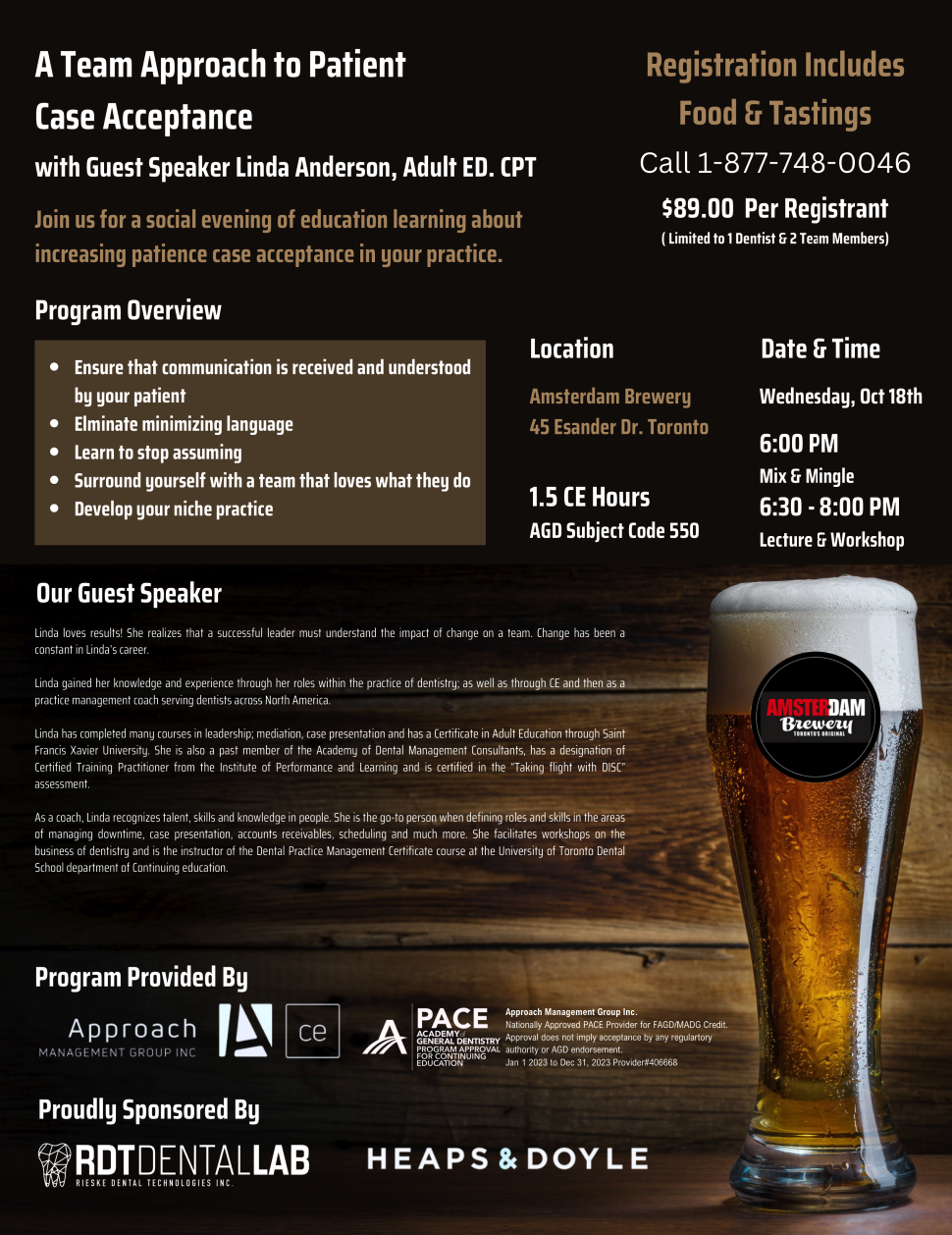 RDT Dental Lab (aka Rieske Dental Technologies Inc.) is a full service laboratory that focuses on 4 core values - Quality, Customer Service, Variety and Consistency. We believe in building a long lasting relationship with you and in delivering on what's important to a progressive office. We are meticulous in our procedures, which include utilizing high quality restorative materials, detail oriented procedures and state-of-the-art equipment. The specialized, individual approach that we have adopted cannot be replicated in factory-like settings. We pride ourselves on individual attention, superior craftsmanship and impeccable reliability.
Our goal is to produce the highest quality restorations focusing on customer service and support for every case. We are your partner throughout the process, from planning to final insertion. We ensure individualized attention to every case leaving our laboratory. This includes step-by-step guidelines and chair side support for larger cases. Long-term relationships and quality communication is the key to our success.
At RDT we value your business, your clients and your time. We help our dentists create products that have a perfect fit with minimal adjustments and the highest aesthetic results. Less adjustments result in less chair time with happier, more confident patients who bring you additional referrals. Your peace of mind is our guarantee on every case.
DANNY RIESKE MDT, RDT
The owner Danny graduated as Master Dental Technician in Halle, Germany. With 18 years of experience working with dental laboratories from Germany to Singapore to Canada his level of expertise ensures that every case that leaves the laboratory is produced under these intense standards.
Throughout his career Danny has been privileged to learn from industry leaders such as Jochen Peters, Oliver Brix, Christoph Kaiser, Dr. Koenig and Lee Culp. Such inspiration has helped guide Danny to demand the highest quality standards in his profession.
---
Balmoral Dental Designs Partnership
RDT Dental Lab has a proud strategic partnership with
Balmoral Dental Designs
. With three locations across Ontario, Balmoral Dental Designs is a leader in all aspects of Dental Technology. By merging technical expertise with progressive materials and equipment, the team at Balmoral Dental Designs strives for continuous quality improvement through innovation, and is a proud partner of RDT Dental Lab.
---
Certificates & Education
Wieland, Quality Assurance Management ISO 9001
Metalor, Steri-Oss Implant Systems
Straumann, ITI Implant Systems
Straumann, Full Arch Immediate Fixed Hybrid Restorations
Degudent, Golden Gate System With Individual Interlocking
BEGO, Individual Swing Latch System
BEGO, Anatomical Design Of Anterior And Posterior Occlusal Components
ESPE, Sinfony
Straumann Advanced Implant Systems
Ivoclar, IPS Empress Master
Thiel Seminar, Biocompatibility of Dental Materials
Prosthodontists Dr. Hilger and Dr. Koenig, Full Arch Immediate Implant Retained Prosthetics
Straumann, Diagnostics and Implant Planning
Nobel Biocare, Dental Designer Nobel Procera
German Master School for Dental Technician, MDT
ESPE, 3M Lava Zirconia Certification
Jochen Peters, Creating Aesthetic Implant Restorations
BEGO, Precision Milled Restorations
Nobel Biocare, Restorative Treatment And Options
Vita, Predictable Dental Restorations In The Esthetic Zone
Wieland, AGC Galvano Prosthetic
Thiel Seminar, Implant Systems Guide And Comparison
Ivoclar, Zirconia Esthetics Naturally
Ivoclar, Smile Design Advanced Emax and Zirconia
ITero, Digital Certification
Trios, Digital Certification
---
Our Services
Overview Restoration Types
Veneers
Crown and Bridges
Inlays/Onlays
Screw Retained Implants
Cement Retained Implants
Implant Bars with Various Attachment Options
Full Dentures
Partial Dentures
Cast Partial Dentures
Flexible Partials
Temporaries
Case Planning and Diagnostic Waxups
Combo Cases
Nightguards in Various Designs and Material Options
Snore and Sleep Apnea Devices
Orthodontic Devices
Overview Restoration Types
Zirconia
Emax (Lithium Disilicate)
PFM In Variety Of Alloys
Composit
Thermoplastic Acrylic
Acrylic
CAD CAM Print